Traveling internationally can be a fun and rewarding adventure. Many think international travel is difficult, but arranging an international trip is not much more of a hassle than traveling to other destinations. There are, however, a few very important issues to keep in mind.
You must have a valid passport. Valid passports have been required for international air travel since January 8, 2007. This includes travel to Canada and Mexico. Even if your destination country does not require a passport, a valid passport will be required for re-entry into the US upon your return.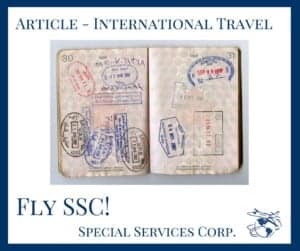 While a valid passport allows entry to most countries for ninety days, you may need a visa if you are planning to stay longer. Some countries may require a visa for shorter visits or if you plan to work or conduct business.
Tropical destinations may require special vaccinations and you should plan well ahead of your proposed travel dates since the process may take several months to accomplish.
Financial plans and options should be looked into. You may need to exchange some funds before arrival and sometimes this can be accomplished at the airport. It is always wise to confirm if your debit or credit card can be used at your international destination.
Learning a little bit of the local language. A few phrases like "Do you speak English?" and "Where is the restroom?" may come in handy. Researching the local culture can help you find unusual and out of the way features about the country you are visiting, as well.
Keep in mind that most countries are very concerned about any agricultural products that travelers may have. Fruit, vegetables and plants may spread diseases and insects that can devastate local plant species. It is always best to leave such products behind. Large fines and other sanctions may be levied if caught trying to smuggle such things. International trash and left over food products are usually bagged and disposed of by special means to eliminate these potential problems.
Many countries will have very specific rules about weapons. There have been cases where U.S. citizens have been arrested and faced stiff penalties for entering The Bahamas with firearms or ammunition, including as little as one forgotten bullet lost in a backpack. Firearms are much more strictly controlled in Canada than in the United States, as well. Violation of firearms restrictions may result in prosecution and imprisonment. Check ahead for the proper process if you need to travel with any sort of weapon.
Under the laws of the United States and many foreign countries, international parental child abduction is crime. A well-written custody decree is an important line of defense against international parental child abduction. In many cases, a notarized form my be required if a child is traveling internationally without both parents or guardians.
Traveling internationally on a private aircraft is fairly easy. Keep in mind all of the rules and regulations apply to private travel that apply to public travel. Private travel does allow you to keep your own schedule and the convenience of remaining with your fellow travelers. International flights do require the notification and screening by various officials and a fairly prompt schedule must be maintained and adhered to, however.
US Customs and Boarder Protection will require an out-bound clearance along with the filing of a number of forms and documents. A visual inspection of the plane, passengers, crew and luggage may be required.
The policies and procedures at the international destination usually require a number of forms and documents to be filled out, along with a review of your passport and the payment of various arrival taxes. The fli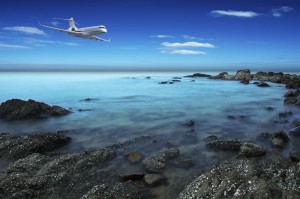 ght crew and international specialists handle most of the documents and payments upon arrival. The same is true upon departure from the international location.
Arriving back in the US is a similar process. The plane and passengers are screened, documents and luggage checked, paperwork stamped and filed, then you are on your way home.
We travel to the Caribbean and Canada on a regular basis. Travel to these destinations is relatively easy and quick to arrange. We travel to Mexico and other locations on occasion, as well. With the proper documents and information, most international trips can be arranged and accomplished fairly quickly and efficiently. We look forward to helping with your next trip very soon.
Steve Wiley
VP Aviation Accounts.