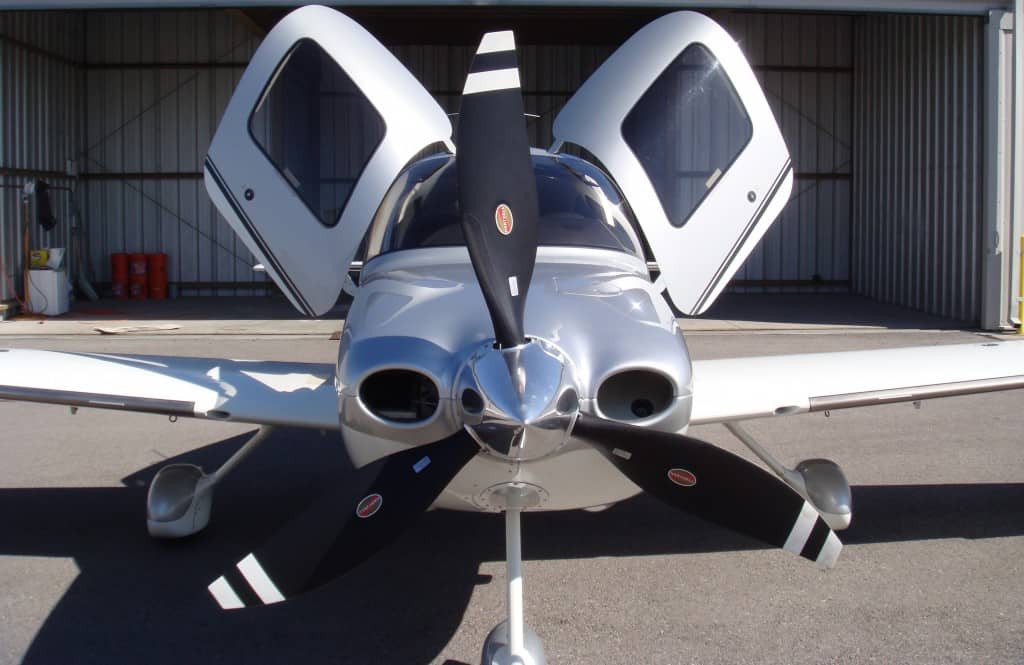 SSC has managed and flown Cirrus aircraft for our owners for years, but Cirrus On Demand formalizes the program we offer our owners and allows us to provide even more benefits!
More from Cirrus Aircraft:
With the Cirrus On Demand program, an experienced, certified Cirrus pilot is at the disposal of a new Cirrus Aircraft owner. From the first day of ownership, Cirrus On Demand customers benefit from immediate and safe utility of their aircraft. Adding to the value of this offering is real-time flight training, meaning the new owner can train while flying the aircraft for business or on a weekend getaway.
"(Generation 6 Cirrus Aircraft) G6 is the result of the most innovative, capable and feature-rich set of upgrades we have ever applied to the entire SR product line," said Todd Simmons, President, Customer Experience. "The word 'comprehensive' best describes the depth and breadth of all the improvements in G6 as the completely redesigned and fully-integrated user interface and lightning-quick speed of the brand new Cirrus Perspective+ flight deck is noticeable from the moment you power up. Perspective+ instantly adds game-changing capabilities to G6 – from connectivity to safety to navigation – and gives our owners and operators a completely elevated ground, pre-flight, cabin and in-flight experience." Simmons continued, "G6 is also the brightest Cirrus ever, as the new state-of-the-art Cirrus Spectra wingtips deliver unrivaled visibility and commanding presence both in the air and on the ramp."
"The reality is the improvements in G6 taken altogether are a window into our design and development values at Cirrus Aircraft. While the new features brought by G6 are both innovative and compelling, they are equally intentional and customer-centric when it comes to real steps forward in capability, performance, style, and safety improvements. That bright light of innovation with purpose is our constant at Cirrus, and the enhancements we have made with G6 to the SR22T, SR22 and SR20 follow through on our commitment to leadership in Personal Aviation," Simmons concluded.
Cirrus On Demand pilots are Cirrus Standardized Instructor Pilots (CSIP) who have been professionally trained and evaluated by Cirrus training specialists and trained to the company's corporate flight standards. Additional credentials for these pilots include: Commercial Pilot Certificate and a Certified Flight Instructor with an instrument rating (CFII). This corporate pilot is fully qualified by Cirrus Corporate Flight Operations to fly in all legal weather. They will also manage all aspects of flight operation; from flight planning and preflight safety to loading/unloading passengers and baggage, fuel and travel planning, including booking hotels and car rental. Should the owner desire to work toward their own pilot's license, their pilot will provide training and all training materials required for certification. With a Cirrus On Demand pilot, there is no barrier to ownership for Cirrus Aircraft customers who are not yet a pilot.
Todd Simmons further explains, "For the business owner who wants to become a pilot, but has found the time commitment of traditional flight training daunting, or for the person who simply wants the efficiency and economy of private aircraft ownership, Cirrus On Demand is the perfect ownership solution. It removes the barriers of 'What if I am not a pilot' or 'My schedule is too busy' and provides all the advantages afforded the private owner pilot. Cirrus on Demand begins the day you take delivery. What easier way is there to enjoy the luxury and convenience of owning a Cirrus and obtain a license while traveling for vacation or for work?"
For more information on Cirrus On Demand or to become a Cirrus On Demand pilot, visit cirrusaircraft.com/ondemand.
About Cirrus Aircraft 
Cirrus Aircraft is a recognized leader in general aviation. Its all-composite line of personal aircraft – the SR20, SR22 and the turbocharged SR22T – incorporate innovative and advanced performance, electronic and safety technologies, including Cirrus Perspective™ by Garmin® avionics and the unique Cirrus Airframe Parachute System™ (CAPS). To date, total time on the worldwide Cirrus Aircraft SR-series fleet surpassed five million flight hours with 69 lives saved as a direct result of CAPS being a standard safety feature on all Cirrus aircraft. The Cirrus Vision SF50 jet, with nearly 500 production positions reserved, will provide a new personal and regional business transportation solution: the personal jet. All Cirrus aircraft are made in the U.S. with a direct sales force in North America and authorized sales centers covering export markets in 60 countries around the world. Cirrus Aircraft is wholly owned by China Aviation Industry General Aircraft Co., Ltd (CAIGA). For additional information on Cirrus and its products please visit cirrusaircraft.com.
SOURCE Cirrus Aircraft